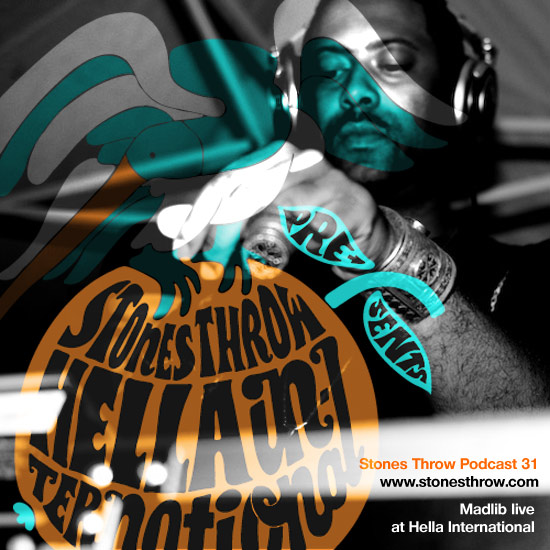 MADLIB LIVE AT HELLA INTERNATIONAL
FREE ON ITUNES, FREE AT WWW.STONESTHROW.COM
This short DJ set from Madlib includes bits of new material including Beat Konducta #5 and his unreleased Madvillain remixes, spinning live at Hella International, Stones Throw's yearly event at Miami's Winter Music Conference. Special thanks to host Aloe Blacc and to Hella International's presenter VTech Phones for allowing us to make this a free event. www.stonesthrow.com/news/hellainternational
Jackson Conti – Sujinho
What do you get when you combine Madlib productions, classic Brasil standards and the drummer of Azymuth Ivan 'Mamao' Conti?
The answer is JACKSON CONTI – SUJINHO. A fullfledged 80 min trip through Brasilian history….
Filled with songs from the greats of Brasilian music of the mid sixties to early seventies. Luiz Eca, Chico Buarque, Joao Donato, Baden and Vinicius, Marcos Valle, Dom Um Romao, Airto even George Duke gets a look in, and of course Azymuth.
Madlib is an artist that gives one new ears every couple of years if you choose to pay close enough attention. As for Jackson Conti, Madlib & Azymuth will blow your heads open ! More info coming soon. Watch out for the limited 7″ which is dropped on the 13th of March !!! courtesy: www.kindred-spirits.nl
Jackson Conti – Sao Paolo Nights
[audio:http://www.moovmnt.com/nevill/Moovmnt/Jackson_Conti_-_Sao_Paolo_Nights.mp3]
Jackson Conti – Barumba
[audio:http://www.moovmnt.com/nevill/Moovmnt/Jackson_Conti_-_Barumba.mp3]
Subscribe to the Kindred Spirits Podcast for the Jackson Conti originals..and more