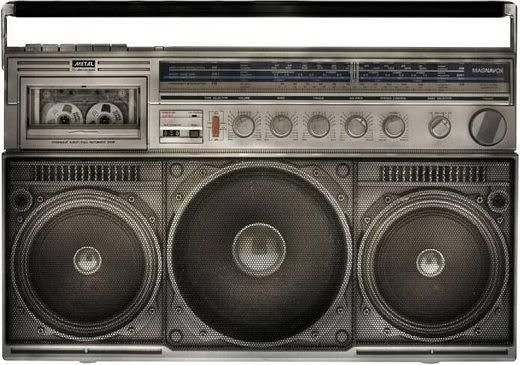 After releasing both his guest-filled production album, Dirty Science, and his critically acclaimed full-length collaboration with Blu, Below The Heavens, within a year of each other – as well as landing major label placements with Mobb Deep & 50 Cent ("Pearly Gates"), Jurassic 5 ("Baby Please"), and Kardinal Offishall & Akon ("Graveyard Shift") – it seems as though Exile has been taking some time off since 2007. But looks can be deceiving, as Ex has merely been locked up in the lab, experimenting and plotting another onslaught of releases for 2009. Projects already on the agenda include a full-length albums with rising talent, Fashawn, a handful of tracks on the latest from longtime collaborator, Blame One, a solo MC effort from Ex, and there have even been talks of an album with underground favorite, Shawn Jackson. But before any of those – there is this: Radio.

A sampling experiment gone right, Radio quickly turned into a passion project for Exile – one that has already taken years in the making. Rarely one to take the expected path, Ex decided to flip the script a bit and instead of doing the typical instrumental album, challenged himself to only sampling sounds taken from his local L.A. radio waves to make his beats & statements with. The result is a sonic collage of crisp drums, static feedback, talking samples, and sounds from a wide array of genres – all filtered through Exile's signature seamlessly chopped-up, tempo-switching style, and composed to convey succint life messages to the audience.

For the unveiling of this new project, Exile was kind enough to bless me with a few tracks from the forthcoming album, which I'll be spreading out between now and the album's release on January 20th. So to start it off, here's a free download of "In Love," a track which most people have been trying to hunt down ever since Ex first debuted at the Red Bull Music Academy in Barcelona a few weeks ago. A few quality low-quality rips from the video have surfaced, but this is the official, full-length, mastered version – available here for the first time anywhere. One of the easier-to-place selections from Exile's radio waves palette, the main samples of "In Love" consist of re-arranged quotes from a fundraiser on Carlos Nino's Spaceways radio show on KPFK, matched with chops of a Dwight Trible song from the same broadcast.

And per usual, stick around after the jump, where I've provided three personal highlights from some of Exile's lesser known instrumental works, taken from various compilations. More Radio leaks, single announcement and cover art (peace to Wuzz> and Lyle Owerko for the above art) are all coming here soon, so stay tuned. Re-posted from Kenny Fresh…Freshclusive on FreshSelects.net.
[audio:http://www.moovmnt.com/download3/Exile_-_In_Love_Freshselects.net.mp3]